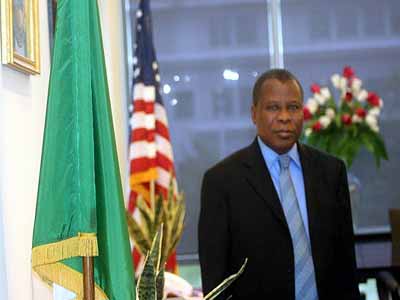 The Management, staff and students of the University of Ibadan deeply regret to announce the death of the foremost diplomat and outstanding alumnus of the University of Ibadan, Prof. Adebowale Ibidapo Adefuye. Prof Adefuye was until his death, the Nigerian Ambassador to the United States of America, a position which he assumed in March 2010.
He was 68 at death.
Born in Ijebu-Igbo, Ogun State, Prof. Adefuye obtained his first degree in History at the University of Ibadan, Nigeria in 1969, and went further to obtain a Ph.D. in History from the same University in 1973.
In addition, as a Fulbright scholar, the late Ambassador studied at Columbia University, the University of North Florida and the University of Florida in Gainesville.
Prof Adefuye started his academic career as a lecturer at the University of Lagos, where he rose to the position of professor, published books and articles, and served as Head of the History Department from 1985 to 1987.
He received his first diplomatic posting as High Commissioner to Jamaica, with concurrent accreditation to Haiti and Belize, a job he kept from 1987 to 1991.
From 1991 to 1994, he served as Deputy High Commissioner at the Nigerian Embassy in London, U.K., from where he was hired by the Commonwealth (formerly the British Commonwealth of Nations) as Deputy Director of Strategic Planning.
After fourteen years with the Commonwealth, Adefuye took a job with the Economic Community of West African States (ECOWAS), where he served as an Advisor for two years, from 2008 to 2010 when he was appointed as US ambassador.
As an ambassador to the United States (US), Prof Adefuye helped to persuade the U.S. government to remove Nigeria from its "country of interest" terrorism watch list -a list on which Nigeria was placed, following the December 25, 2009 failed attempt by Umar Farouk Abdulmutallab, (a Nigerian) to blow up a Northwest Airlines flight headed from Amsterdam to Detroit.
The Vice Chancellor of the University, Prof I.F. Adewole described his death, not only as a monumental loss to the University community, but the Nation and the world at large.
He will be sorely missed.
Prof Adefuye is survived by his wife, Mrs. Catherine Shola Adefuye, children and grand children.